Virus and bacterial testing
We maintain a virus and bacterial testing chamber in-house that allows us to undertake evaluative tests on behalf of clients.
We can design experiments and perform them for you in a way that is tailored to your needs.
These solutions are used by industrial and textile products manufacturers to test the antibacterial resistance of their products.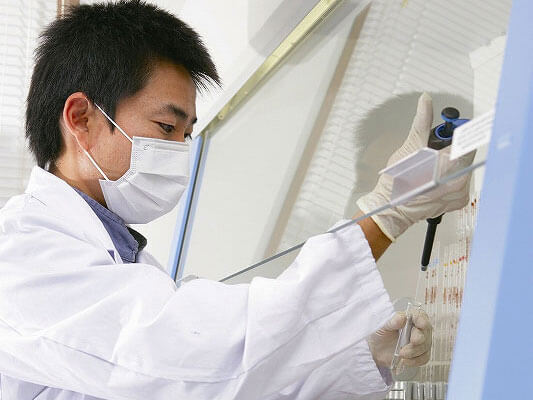 Our virus and bacteria testing chambers
We are equipped to perform viral assessment.
Shinshu Ceramics makes use of its in-house bacteria testing chambers to perform viral and bacterial assessments on behalf of clients. This allows us to perform viral evaluations of the same level as the National Institute of Infectious Diseases, which utilizes BMSA certified methodologies. We retain approximately twenty strains of Staphylococcus aureus, E. coli, Pseudomonas, Klebsiella pneumoniae, and multidrug resistant bacteria, and we carry out a wide range of bacterial tests.
Example of viruses that we can assess
Influenza virus (H3N2)
Feline calicivirus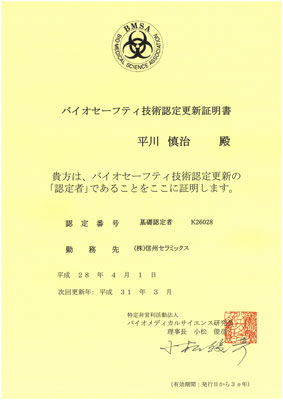 We are equipped to perform bacterial assessment.
We retain strains of Staphylococcus aureus, E. coli, Pseudomonas, Klebsiella pneumoniae, Legionella pneumophila, and Moraxella, among others.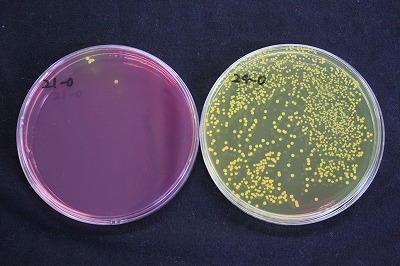 We design tests and evaluative protocols around the client's specific needs.
An open-ended approach to testing that goes beyond JIS standards allows us to further probe the veracity of a hypothesis and yield realistic results.
Test design examples
Example 1: continuous inoculation of bacteria

We can design tests around actual usage contexts and inoculate a sample over multiple days in order to determine its antibacterial resistance over a given period of time.

Example 2: flexible time parameters

We can design tests conducted at specific time intervals, which will allow you to assess antibacterial properties with a view to thresholds defined by JIS and other standards.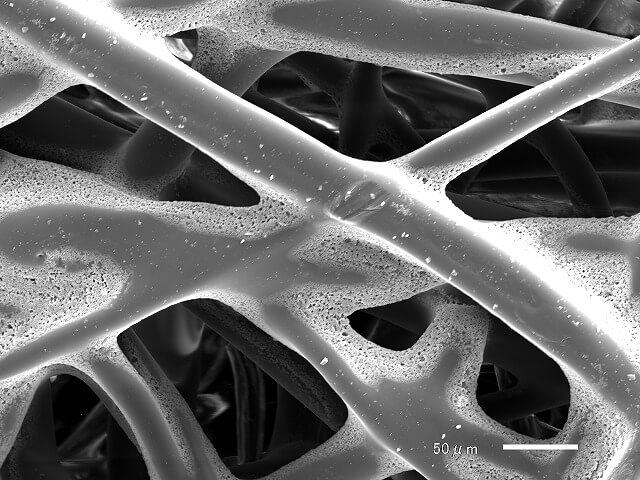 Safety considerations
Our dedicated evaluation technicians are certified in BMSA pathogen safety management and other standards.
Virus inactivation testing
We also undertake virus inactivation testing on behalf of clients.
We will design custom tests and experiments tailored to your product and desired use case.
Testable viruses
Influenza virus A (H3N2)
Influenza virus (H1N1)
Feline calicivirus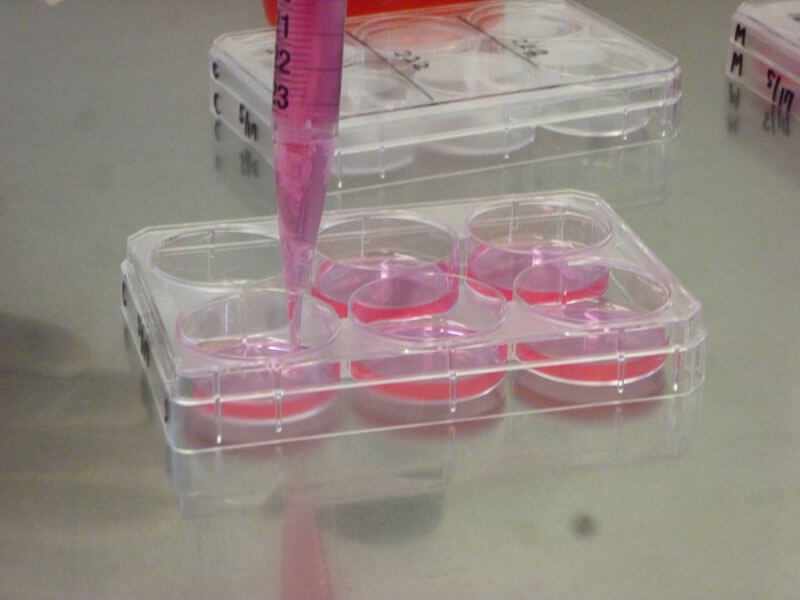 Measurement method
We utilize plaque assays (JIS L 1922) to evaluate the rate of virus infection.
Note that the nature and design of tests varies by the intended use case and the size and shape of the product, so please enquire for details concerning your product.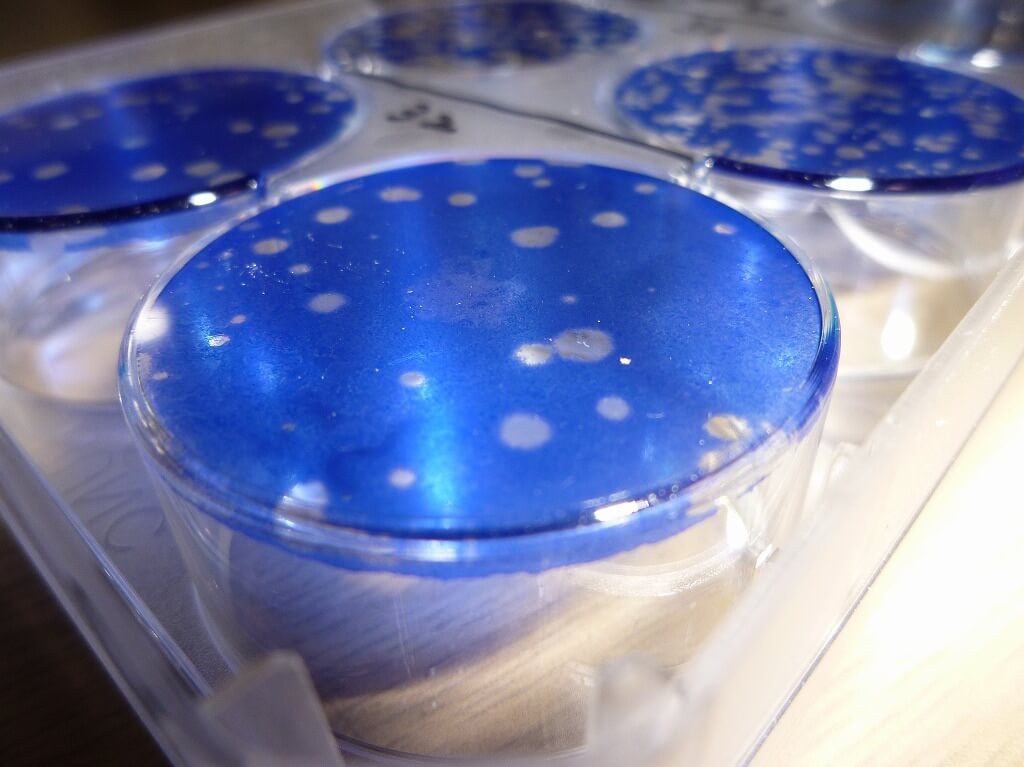 Prior test results and publications
International Journal of Nanomedicine, 2011

Paper presented in collaboration with Shinshu University School of Medicine concerning bacterial activity on cotton fabric treated with earthplusTM (titanium oxide, hydroxyapatite, and silver metal) and polypropylene nonwoven fabric

The Japanese Association for Infectious Diseases, 2011

Evaluation of antibacterial performance of earthplusTM (e+) ceramic composite textile material

Poster presentation with Shinshu University Medical Department

Household and Personal Care Products, 2012

Antibacterial efficacy of TiO2/Ag treated fabrics (earthplusTM), paper presented with University of Arizona

Japanese Society for Infection Prevention and Control, 2013

Poster presentation: "Ongoing advances in the antiviral material earthplusTM -- basic findings in antiviral performance" (antiviral effects in cotton suits)

Healthcare Infection Society Society, 2014 *1

Details on antibacterial performance of earthplusTM against multidrug-resistant bacteria Poster presentations by Tohoku University Graduate School and Fukushima Medical University
*1 The Healthcare Infection Society is a British society for infectious control science. This body is considered one of the most prestigious groups involved with infection studies.
*2 Multidrug-resistant bacteria is a type of bacteria resistant to several antibacterial agents.
Request for literature
We provide a range of detailed materials such as academic papers and evidentiary data of use to researchers.
If you are interested in obtaining these materials, please submit a request via our form.
Click here to request literature